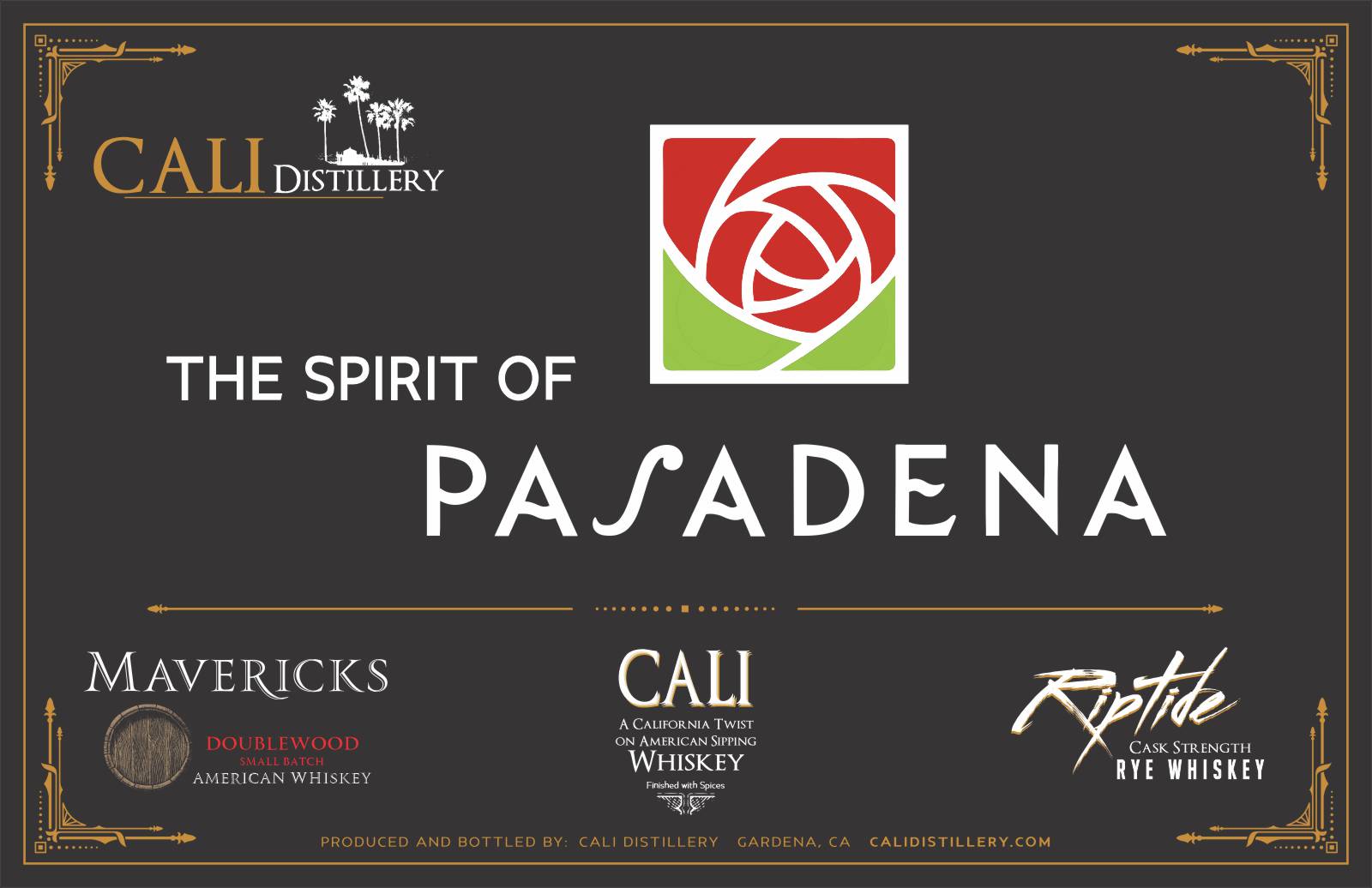 Pasadena is one of southern California's fountains of cool, contributing a disproportionate number of celebrities in rock & roll, Hollywood, and science.
Map and directory of where to buy CALI products in Pasadena:
Bristol Farms – Pasadena
606 Fair Oaks Av
South Pasadena, CA 91030
Total Wine – Pasadena
721 E Colorado Bl
Pasadena, CA 91101
Google Map
Calendar of Pasadena Whiskey Tastings:
---
Click a bottle to learn more.
CALI Whiskey is a unique California twist on a classic American sipping whiskey. CALI is smoother than a frontier whiskey, but more complex and flavorful than a traditional Kentucky bourbon. The flavors of CALI Whiskey arise organically from the interaction of the rich corn mash bourbon and spicy rye, mellowed by clean oak and then finished with our own signature blends of herbs, spices and botanicals.
Mavericks Doublewood Whiskey is our high rye bourbon shaped by exposure to two very different varieties of oak. CALI Mavericks DoubleWood Whiskey starts out in charred new American Oak barrels, and finishes with toasted French Oak. Rich with coffee, caramel and cocoa aromas, this is what Whiskey tastes like on the coast.
Riptide Rye-Cask Strength is CALI Distillery's idea of a perfect small batch Rye Whiskey. It is 93% rye with just enough malted barley to drive the fermentation process. We are so enamored of this mash bill, that we do our best to bottle it as purely as it comes out of the single barrel. Cask Strength, this 118 proof spirit has a beautiful amber color and an earthy overtone. The rich butterscotch notes of oak complement the underlying spice of the Rye to make an incredibly smooth Rye Whiskey.

Visit the CALI Distillery website.
---
Famous Pasadenans:
Sophia Bush, actress, TV series One Tree Hill and Chicago P.D., 82nd Rose Queen for 111th Tournament of Roses Parade (2000)
Julia Child, celebrated author and television chef
Jeff Cirillo, MLB player for six teams
Michael Cooper, NBA player for Los Angeles Lakers, coach
Michael Dorn, actor
Richard Feynman, Nobel Prize physicist, Caltech professor, raconteur
Sally Field, two-time Academy Award-winning actress
W.C. Fields, comedian, actor, juggler and writer; died in Pasadena
Murray Gell-Mann, Nobel Prize physicist, Caltech
Edwin Hubble, astronomer, namesake for the Hubble Telescope, Caltech professor
Mandy Moore, Actress, Musician
George S. Patton, four-star general, led Allies during World War II
Drew Pinsky, doctor and radio/TV personality
George Reeves, actor, best known as star of television series Adventures of Superman; attended Pasadena Junior College
Jackie Robinson, iconic baseball player
David Lee Roth, lead singer for Van Halen
Teena Marie, singer-songwriter, music producer
Chase Utley, baseball player, Los Angeles Dodgers
Alex Van Halen, drummer for Van Halen
Eddie Van Halen, lead guitarist for Van Halen
Wil Wheaton, actor, writer
Jaleel White, actor, producer, and writer
William Wrigley, Jr., founder of Wrigley Chewing Gum, former owner of Chicago Cubs
Cool stuff to do in Pasadena before picking up a bottle of a Cali Distillery whiskey to take home to enjoy, responsibly, while reminiscing and savoring what you did.   Many of the following have temporarily closed or have limited hours due to COVID-19.  Please check in advance before going.
Eaton Canyon Natural Area
A protected wilderness preserve in the San Gabriel Mountains has hiking trails and a nature center.  Climb to the top of Mount Wilson, an 18-mile tough round trip hike.
Gamble House
This stunning Arts and Crafts-style home designed by the famed brothers Greene and Greene is a must-see for fans of the Arts and Crafts architecture style.  Tours require tickets, which can be purchased ahead of time online or at the gift shop next door to the home, located in what was the property's original garage. Check out the Behind-the-Velvet-Ropes special tour to get to see parts of the house that are normally off-limits.
Huntington Library, Art Museums and Botanical Collections
The Huntington Library, Art Museum and Botanical Gardens, known as The Huntington, is a collections-based educational and research institution established by Henry E. Huntington and Arabella Huntington
NASA / Jet Propulsion Laboratory
The JPL is part of California Institute of Technology (Cal Tech).  The JPL began studying rockets and the idea of space exploration in the 1930s and began collaborating with the National Aeronautics and Space Administration (NASA) shortly after that federal government division was founded in 1958. The JPL offers free tours of their museum and also the von Karman Visitor Center, the Space Flight Operations Facility and the Spacecraft Assembly Facility. Monday and Wednesday have public tour offerings.
Norton Simon Museum
With its curved exterior and dramatic, Frank Gehry-designed interior, the Norton Simon Museum is a work of art in itself. The museum, features European art from the Renaissance to the 20th century, as well as an incredible trove of works from Asia covering more than 2000 years. Don't miss the three Rembrandt paintings, the Goya paintings and more than 100 Degas works on display. The sculpture gardens are also a must-see.
Pasadena Museum of History
This museum's two-acre site includes the Fenyes Mansion, a 1905 Beaux-Arts masterpiece filled with artworks, furniture and more from that time period. Its garden is a popular spot for local weddings and exhibits focus on Pasadena's history, its railways and transportation, fine and folk arts, and photographs.
Rose Bowl Stadium and Rose Bowl Flea Market
The Rose Bowl Stadium is one of the oldest stadiums in Southern California, more than 100 years old, hosting fall UCLA football games , the annual Rose Bowl on New Year's Day and the monthly Rose Bowl Flea Market. Tours of the stadium happen the last Friday of every month. The Flea Market market happens on the second Sunday of every month.
Tournament of Roses House / Wrigley Mansion
The Wrigley Mansion has been the home of the Tournament of Roses since 1958, when Ada Wrigley donated the massive home to the city of Pasadena.  The annual New Year's Day Rose Bowl Game and Rose Parade are planned here. Guided tours of this over-the-top mansion only happen from February to September.