---
CALI was spotlighted in a Wine Enthusiast feature story on "The Emerging California- Style Whiskey"
CALI Whiskey
Cali Distillery, Beverly Hills
"We have reimagined whiskey as a California spirit," say these producers, who describe CALI Whiskey as "relaxed, but sophisticated, with a rugged edge." This flavored whiskey is made with Kentucky Bourbon and rye, finished with herbs, spices and botanicals from California. The palate leads with sweet spices, Red Hot candies and a light note that suggests banana bread. It finishes sweet and warming. abv: 42.5%
---
---
---
Appearance: This finished bourbon pours a marvelous mahogany. The kind of mahogany that would make Ron Burgundy proud.
Nose: My first long sniff drew in beautiful heaps of vanilla and caramel, followed by earthy coffee and hints of leather as I enjoyed another long draw.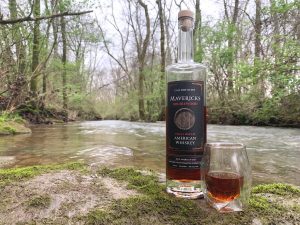 Palate: A terrific encounter with spiced rye and toasted nuts up front, balanced nicely by toffee and young tobacco in tow. There were times throughout the glass I was expecting licorice to make an appearance, but it never really did. As I spent more time, it continued to nestle brilliantly into the earthy elements of leather, coffee, and tobacco.
Bottom Line: I really like this whiskey. It has a sort of playful sophistication indicative of West Coast living. I'll be doubling back to Doublewood often.
Cheers, friends.
– Mark
---
Cali California Sipping Whiskey
California ($ 29) 85 proof
Aromas of baked pumpkin bread, orange peel and baked apples waft from the glass, so fresh and fragrant. Nutmeg, allspice, molasses and dark bread are an all-star cast on the palate, making for a truly distinctive whiskey. It warms the mouth as well as any hot toddy, the cinnamon notes increasingly sweet to the finish. Hand crafted from a mash of bourbon, rye, hand-ground botanicals and aromatic spices.  92
---
CALI California Sipping Whiskey was just released.  I was lucky enough to get my hands on one of the first bottles.  CALI is hand crafted from a blend of rich corn mash bourbon, and spicy rye.  After aging in clean oak barrels, it is finished with hand-ground botanicals, herbs, and aromatic spices.  CALI is produced and bottled by Sukkah Hill Spirits in Gardena California.It pours to a golden amber color.  The aroma is nutmeg, apple, cinnamon stick and spiced orange gum drops.  The sweet bourbon entry has molasses and cinnamon flavor that is joined by apple cider and nutmeg at the midpoint.  The smooth fade is warm with a mild spicy rye sting.  It finishes with vanilla, allspice, cinnamon and spiced orange taste.  CALI California Sipping Whiskey packs the flavor of a well crafted spiced rum, with the smooth and sweet taste of a well crafted bourbon.  This is a very smooth and tasty whiskey that at different times balances apple cider and fresh orange flavor with hand ground spice.  CALI is a nice sipping whiskey, that also presents a very tasty flavor pallet for mixing cocktails.
Made in Gardena California
42.5% Alcohol
Score: 92
Award: Gold Medal
---
There aren't a whole lot of spiced whiskies out there. So, I was quite intrigued to receive a sample of one by the same couple who head up Sukkah Hill Spirits (see my reviews of their liqueurs here).
CALI California Sipping Whiskey (85 proof)
Visual: Orange-gold.
Nose: Ginger, cinnamon and clove painted against malty whiskey canvas.
Taste: Remarkably smooth for a higher-proof whiskey.  The initial impression is of warmth and spice cake.  This opens up quickly into a broader palate that is predominantly cinnamon.
Finish: Long with a lot of the spices lingering and creating a cooling sensation on the tongue. Very much akin to an allspice liqueur.
Overall: I wish this was more widely available.  It honestly puts many spiced rums to shame.  You can even use it in Tiki drinks for extra pop. Try this is a Hot Toddy or neat in a Brandy snifter.  It is a great winter warmer.
GSN Rating: A-
---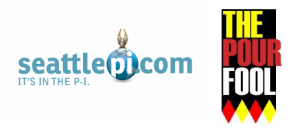 Steve Body – The Pour Fool – Seattle PI
Feb 2018

Cali California Whiskey – or, more properly, as it says in the bottle "A California Twist on American Sipping WHISKEY"…well…I'm at least three weeks late writing this because I frankly just didn't know how to put it all. Howard and Marni Witkin, founders of CALI Distillery, set a goal of making a whiskey that expresses "California". The Witkins live in LA and love it there. They're proud of their incredibly diverse home state and wanted to make a whiskey that speaks to that aura, that completely unconventional, quirky-but-majestic ambiance. Well…the idea's been tried, many times, by lotsa manufacturers; that think of making beverages that claim to speak to their place of origin. The results have been, to put it charitably, mixed. I was recently sent a line of four wines that their creator intended to perfectly express four different wine regions. And they may have done it – for him. Not one of them said "Walla Walla" or "Barossa" or "Mendoza Valley" or "Provence" to me…and therein lies The Rub.
How do you say "California" in one whiskey? California is deserts, yes, but also coastal rain forest. It's hills carpeted with high-elevation vineyards…but it's also that vast central valley, the bread basket of North America, and it's the floor of Napa Valley, with heat that drives up alcohol and makes fruit explode from your glass and poke you gently, right in the soul. It's snow-capped mountains and parched southern lowlands. It's blue-collar, gritty industry and commerce and music and movies and scenery that will make strong men weep.
ALL of that is in a bottle of Cali.
Howard and Marni… well, there's no other way to put this: they have Pulitzer Prize-grade palates. They not only bring their ideas to fruition but those things turn out nearly flawless: everything in perfect balance, utterly delicious and drinkable, and different from any other beverages of their types. It . It. It doesn't take any more than that to point out a maker of beverages that is Onto Something.
I don't have the slightest fuggen idea how one normal, amiable, above-average married couple from LA has managed to do this but, from the first moment I smelled Cali – never mind the delicious confirmation of tasting it – I knew they had pulled this off. I promise you that you will not be able to adequately describe the aroma of it. I'm pretty good at dissecting beverages like that and I failed. Failed totally. Every time I thought I had it nailed down, another aroma surfaced. There is definitely cinnamon and it's right up front but nothing at all like the obnoxious, head-bangin' clumsiness of Fireball. There is an intimation of nutmeg and a hint of cloves but waaaay back in the profile, lurking, sneaking along next to sumac and juniper and anise and white peppercorns. There is an herbal overlay that reminds me powerfully of my oldest and strongest memory of California, the smells of wild sage and stones and sea salt and wildflowers that hit me in the face when I rolled down the car window on a drive along CA 101, just down the hill from Pepperdine University, almost forty years ago. One of the wonders of beverage chemistry is that when flavors are added to other flavors, they almost always spin off residual notes; tastes not added to the mash but occurring naturally and very much by some sort of Divine Intervention. The vanilla of the oak barrels used for aging Cali collides with the spices and spawns baked apples and fresh-baked bread and roasted nuts. The generous use of rye in the mash delivers a powerful, chewy earthiness and savory cooking spices. Stewed cherries arise from somewhere and burnt sugar weaves its way through the whole profile…and all of this somehow adds up to a near-perfect evocation, for me, of a lingering California sunset on the patio at a restaurant in Malibu, where 26-year-old Steve sat and sipped a wonderful Cabernet from a new-ish Napa Valley winery called Chateau Montelena. It also powerfully conjured up my last visit to LA, walking along Venice Beach with a lady friend I have now mostly forgotten.
The question is, "How will other people who are not me be moved by this sinfully delicious whiskey?" As always, that's unknowable. It's possible, I guess, that nobody might be affected as I am by this stuff. Maybe native Californians will see it differently but, somehow, I kinda doubt it. The best pocket description I can give you for this innovative whiskey is "…vivid and spicy, sun-splashed liberally with colorful grace notes, and just different enough from anything you have ever tasted that even a complete novice to the task of analyzing beverages will immediately understand they have something on their tongue that hasn't been there before".
If this is the future of what "California Whiskey" is going to be, the future is as rosy as that Malibu sunset and as colorful as a drive down Sunset Boulevard. Cali is delicacy and earthiness, poetry and plain-spoken eloquence, as with California's own John Steinbeck, who had the knack of great ideas in plain wrappings – "A sad soul can kill quicker than a germ" – and it's Jack London, a Californian who wrung poetry out of the mundane and commonplace but captured both life and his home state in his wide nets:
"Every once in a while, in newspapers, magazines, and biographical dictionaries, I run upon sketches of my life, wherein, delicately phrased, I learn that it was in order to study sociology that I became a tramp. This is very nice and thoughtful of the biographers, but it is inaccurate. I became a tramp — well, because of the life that was in me, of the wanderlust in my blood that would not let me rest. Sociology was merely incidental; it came afterward, in the same manner that a wet skin follows a ducking. I went on "The Road" because I couldn't keep away from it; because I hadn't the price of the railroad fare in my jeans; because I was so made that I couldn't work all my life on "one same shift"; because — well, just because it was easier to than not to."
Cali California Whiskey came about because Howard and Marni Witkin Had To. And we are the beneficiaries of their wanderlust and refusal to live a life on "one same shift". 98 Points
---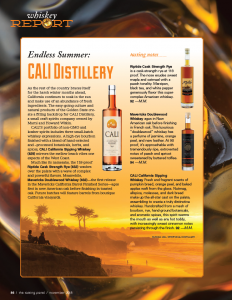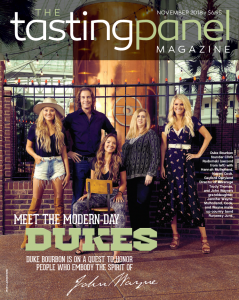 The Tasting Panel
November 2018
Endless Summer:
CALI Distillery
As the rest of the country braces itself for the harsh winter months ahead, California continues to soak in the sun and make use of an abundance of fresh ingredients. The easy-going culture and natural products of the Golden State create a fitting backdrop for CALI Distillery, a small craft spirits company owned by Marni and Howard Witkin.
CALI'S portfolio of non-GMO and kosher spirits includes three small-batch whiskey expressions. A high-rye bourbon finished with a blend of hand-selected and –processed botanicals, herbs, and spices, CALI California Sipping Whiskey ($29) mirrors the mellow beach vibes one expects of the West Coast.
Much like its namesake, the 118-proof Riptide Cask Strength Rye ($32) washes over the palate with a wave of complex and powerful flavors. Meanwhile, Mavericks Doublewood Whiskey ($32)—the first release in the Mavericks California Barrel Finished Series—ages first in new American oak before finishing in toasted oak. Future batches will feature barrels from boutique California vineyards.
Tasting Notes:
Riptide Cask Strength Rye is a cask-strength rye at 118 proof. The nose exudes sweet maple and oatmeal with a peach tonality. Marzipan, black tea, and white pepper
generously flavor this supercomplex American whiskey.
92 —M.M.
Mavericks Doublewood Whiskey ages in New American oak before finishing in French oak. This luxurious "doublewood" whiskey has a perfume of jasmine, orange peel, and new leather. At 90 proof, it's approachable with tremendously ripe, extroverted notes of peach and apricot sweetened by buttered toffee.
94 —M.M.
CALI California Sipping Whiskey Fresh and fragrant scents of pumpkin bread, orange peel, and baked apples waft from the glass. Nutmeg, allspice, molasses, and dark  bread make up the all-star cast on the palate, assembling to create a truly distinctive whiskey. Handcrafted from a mash of bourbon, rye, hand-ground botanicals, and aromatic spices, this spirit warms the mouth as well as any hot toddy, with increasingly sweet cinnamon notes persisting through the finish.
92 —M.M.
---